RENOWNED advocate and author of the highly acknowledged sociocultural book, "EKENE BU NWAEZIMMADU", Mr. Anthony Nkete Nwakogo, on Thursday, celebrated his 50th year on earth, together with his 16th marriage anniversary in company of his lovely wife and family.
The dual occasion took place at St. Michael's Catholic Church, Okpanam, Oshimili North Local Government Area, Delta State, with Mass presided over by Very Rev. Fr. Stanislaus Odiegwu.
In his homily during the Mass, Fr. Odiegwu succinctly dwelt on the importance of living a disciplined life, with emphasis on the sociocultural implications of being "nwaezimmadu", which according to him, should be guiding principle to parents, in the art of bringing up their children in line with the core values of ideal society.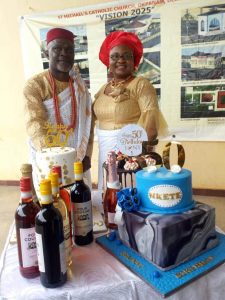 Further, he recalled their days at St. Anthony's College, Ubulu-Uku as Classmates, where the young Kogos, (as Mr Anthony was called then), would discipline erring junior students, including his biological sibling, believing strongly in the Biblical injunction that says spare the rod and spoil the child, maintaining that it was that same disciplinary standard that Mr Nwakogo held on to till the present time in his life; a key to many successes he has achieved at his age.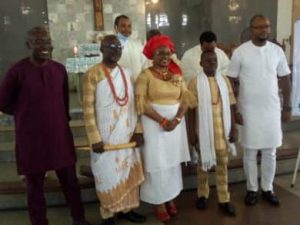 Fr. Odiegwu in conclusion, prayed for God's special blessings upon the celebrant and his lovely family, asking God to bestow on him the grace of long life to witness his great grand children in good health and to fulfill all his heart desires.
Highpoint of the occasion was the unveiling of NWAEZIMMADU Logo by Rev. Fr. Donatus Onyinye Chukwuedo, the Parish Priest of Catholic Church of Ascension, Asaba, explaining the church support for good discipline and humility as virtues Christians should imbibe in their daily living. This was followed by cutting of cakes and entertainment of guests who traveled from far and near to share in the joy of the occasion.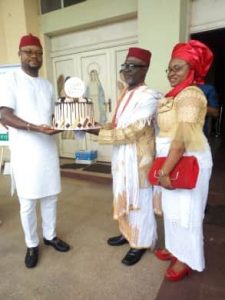 Overwhelmed by happiness of his day, NWAEZIMMADU expressed profound gratitude to his guests, praying God to grant them journey mercies back to their respective locations, thanking them for the unprecedented honour done to him and his family, even as he wished all unending celebrations in their lives.
The joyful occasion was attended by important dignitaries including the Member representing Aniocha North Constituency in the Delta State House of Assembly, Hon. Engr. Emeka Nwaobi, the Delta State Commissioner for Youths, Hon. Ifeanyi Mike Egwunyenga, St. Anthony's College Old Boys Association, President and Members of Issele-Uku Development Union, Asaba branch, Head of Information Systems, Project e-Delta, Mr. Grayham Osakwe, top Directors and State Civil Servants.
By Pat Onyenibedi