AS Christians all over the world mark the triumphant entry into Jerusalem, also known as Palm Sunday,  Rev. Fr.  Hilary Ibegbulem, has called on Christians to assist Jesus Christ.
The Priest who made the call while delivering a Homily at the Catholic Church of the Ascension,  Asaba,  Delta State, observed that Jesus needs help.
While noting that Jesus always answer when He is called on for help,  people should also, assist Jesus as He is in need.
According to the Priest, "bring out your time, talent and treasure to work for Jesus Christ because He is in need of your help and remember His saying, 'if these were silent, the very stones would cry out.'
"Today is the last Sunday of the season of Lent, it is also called Palm Sunday or Passion Sunday
"We commemorate that triumphant entry of Jesus Christ into Jerusalem; today marks the Passion of Christ which ends on Good Friday; the suffering that Jesus went through to bring our salvation.
"Let us join Christ and participate in the activities that the Church laid down for us to follow Christ in His suffering during this Holy Week.
"Let us reflect on the theme, 'Jesus needs our help.'  That was what Jesus asked for, He is in need of it.
<span;>"We are not the only one that needs Jesus Christ; Jesus needs us; He was confident that the owner of the colt will release it to Him and indeed, he did not refuse to release the colt to Jesus for Him to ride on into Jerusalem.
"Our money, our time, our talent, Jesus needs them; can we help Him?
"Let us help Jesus to live for Him.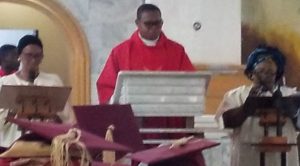 "No one begs Jesus of anything and He will not grant the request and anyone who helps Jesus cannot be forgotten.
"Let us live for Jesus; let us sing Hosanna to the Son of David.
The Holy Mass featured the blessing of palms held by the parishioners.