DELEGATES from the 270 Wards in Delta State gathered in Asaba, on Saturday to elect members of the state executive Council of the Peoples Democratic Party (PDP).
Though, COVID-19 pandemic made it necessary for people to be cautious as they observed set health protocols, the comportment of the delegates made it obvious that for a long time to come, the state will remain under the umbrella political party.
Admittance into Cenotaph, venue of the Congress was not easy as it was restricted to those carrying the PDP delegate tag. Naturally, with the antecedents of the state governor, Senator (Dr.) Ifeanyi Okowa in the conduct of congresses and primary elections, it was expected that elections in the state would be orderly.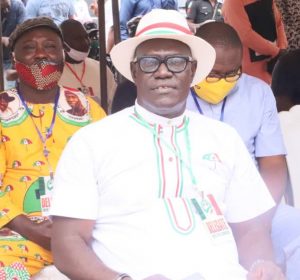 Prior to the Saturday Congress, there were no doubts that Barr. Kingsley Esiso-led Exco would be re-elected. This was due to the fact that the PDP believes in continuity and in the last general elections, the party clinched almost all the positions that were contested for.
Again, the Esiso-led Exco has stabilised the party to the extent that opposition political parties are almost non-existent in the state.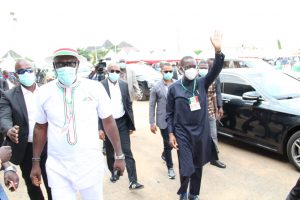 It is a known fact that congresses are prelude to the general elections. With the successful state Congress, preparations for the 2023 general elections could be said to have commenced. This is because, with the peaceful conduct of the congress, it means that primary elections to get candidates for the 2023 general elections will be hitch-free.
Governor Ifeanyi Okowa deserves accolades for the political stability in the state. That he is a team player is not in doubt, and his consultative approach to addressing issues no doubt, has calmed a lot of nerves and reduced desperation from among the political class.
Again, his administration has performed creditable well in all spheres of life. Delta is relatively peaceful because in all the nooks and crannies of the state, the people can confidently point at projects executed by Okowa administration.
Also, individuals and groups in every Ward of the state are benefitting from the government either as political appointees or beneficiaries of the different skill acquisition or empowerment programmes of the government. No doubt, the health insurance scheme initiated by his administration has also ensured quality and affordable healthcare at the reach of the people.
His achievements earned him second tenure on a platter as Deltans came out massively to speak with one voice in an unprecedented casting of votes for the governor. But, like every good thing, there must be an end; if the constitution had provided for third term in office, it would have being better as the greatest challenge as we inch towards 2023, is, who takes over from the governor? Who will the cap fit? Who will be a workaholic, team player as Okowa? Who will run an all inclusive government in the oil-rich state?
Speaking at the venue of the Congress, Okowa said, "we thank God for a very peaceful congress in our state, the ward and local government.
"The peaceful nature of the congresses shows that we are organized people; we are proud of the successes recorded so far.
"I thank you because as always, you have proven that we truly understand politics, and because we truly understand politics, we will continue to win, because God is always on our side.
"Since the formation of this great party, consensus building has always been our strength and I thank God that collectively in our various local government areas we all agreed and elected 39-member State Executive of the state.
"Our strength is in our collective will because you are there at the various units, wards, and local government areas."
He urged politicians to exercise caution ahead of 2023, saying "we were elected to work and provide dividends of democracy for the people and there is a lot of time ahead of us."
Though, people are discussing the issue of who takes over in hushed tones, self assessment is also going on because, it took a man with a large heart to ensure socio-political balancing in the state.
Okowa at that Congress made it clear that, "we were elected to work and provide dividends of democracy for the people and there is a lot of time ahead of us." Obviously, he made it clear that those aspiring to take over from him should take it easy.
Of course, campaign means heating up of the polity and it causes a lot of distractions in the system.
With Esiso-led Exco returning to the saddle, it also means experience. The PDP members have chosen not to rock their boat but, to strenghten the boat for there not to be any leakage.
Those elected to work with Esiso include, Deputy State Chairman (Barr. Val Areyenka), Vice Chairman (Deacon Moses Iduh), Vice Chairman (Chief A.P Fovie), Vice Chairman (Chief Julius Takeme), State Secretary (Chief Goddey Obi-Nzete), Assistant Secretary (Hon. Sunday Tatabuzogwu), Assistant Secretary (Hon. John Okoroloko), Assistant Secretary (Onome Ojo), State Treasurer (Hon. Deinghan Macauley), Assistant Treasurer (Mrs Rita Daniels Chukwuji), Assistant Treasurer (Hon Peter Agbavweni), Assistant Treasurer (Mrs Avro Ajiroghene Evelyn), State Financial Secretary (Hon Collins Bello), Assistant Financial Secretary (Mrs Doris Onoyake), Publicity Secretary (Dr. Ifeanyi M. Osuoza), Assistant Publicity Secretary (Mrs Happy Otojareri), Organising Secretary (Chief Sunday Onoriode), Assistant OrganisingSecretary (Anthony Ejiofor), Assistant Organising Secretary (Wilson Odibo), Assistant Organising Secretary (Mrs Eunice Taylor), Legal Adviser (Barr. Bernard Odior), Assistant Legal Adviser (Barr. Hessington Okolo), Woman Leader (Lady Kanwulia Omoko), Assistant Woman Leader (Mrs Tina Okwudili), Assistant Woman Leader (Chief Mrs Dora Sakpaide), Assistant Woman Leader (Mrs Vero Tongbowei) State Youth Leader (Bino Obowomano), Assistant Youth Leader, (Lucky Onyia), Assistant Youth Leader (Kelly Utuedon), Assistant Youth Leader (Isaac Aguana), Auditor (Chief Owen Erirhomuru), Assistant Auditor (Trophy Kirifagha), Ex-officio (Nrs Mary Odili), Ex-officio (Mrs Vivian Ogheneovo), Ex-officio Morgan Ogapha), Ex-officio (Mrs Evelyn Ologun), Ex-officio (Miss Ezon-Ebi Orogun) and George Guoti (Ex-officio).
Of course they knew what they did to win in the last elections and will certainly improve on it to continue the winning streak of the PDP.
If it were prayers, they already know the efficacy of prayers; if it is one-on-one with the electorates, they are already aware of what to do to keep all Deltans under one umbrella and the beauty of it all is that there is no politician in the state that has not being a member of the PDP at one time or the other, so, they will prefer to ensure that there is no leakage in the umbrella.
Congratulations Governor Ifeanyi Okowa. Yes! Congratulations because, the PDP state Congress did not heat up the polity. If it had gone awry, the burden would have been on the governor to stabilise the system.
It is also necessary to congratulate Kingsley Esiso and his team because, it is only those who have not contested for any position that will take election as child's play. They did well in their first tenure and the result of good work is more work. With their elections, they have been challenged to work harder in boosting the fortunes of the party.
Congratulations too to the PDP, because, the success of the congress means that its winning streak in the state since 1999 will continue for a long time to come.
And above all, gratitude to God that the Congress did not disrupt activities in the state.
By FIDELIS EGUGBO