THE Maris Trust Council (MTC), has congratulated Dr. David Oba,  as he marks the anniversary of his birth.
MTC in a statement signed by its Secretary,  Comrade Fidelis Egugbo, said, Dr. Oba, has distinguished himself as a schorlar who displays high level of professionalism in his actions.
"As we get set for the annual Maris Public Service Lecture,  we are happy to celebrate Dr. David Oba as he marks the anniversary of his birth.
"Dr. Oba, the Executive Assistant to the Chairman,  Delta State Internal Revenue Service,  was one of the discussants at the maiden edition of Maris Annual Public Service Lecture.
"He discussed the lecture delivered by Chief Williams Makinde titled, "Managing Post-Election Challenges: Nigeria As Case Study" with Distinguished Senator Stella Omu,  Ms Faith Nwadishi and Olorogun (Barr. ) Fred Majemite.
"MTC led by the Ezeugo of Issele-Mkpitime, Sir Kenneth Olise,  FCA,  Ph.D is happy to celebrate with Dr Oba who has always identified with the activities of the trust council.
"Dr. Oba, as you deservedly celebrate this anniversary, it is our prayer that God will continues to bless you with robust health and many more years of happiness and selfless contributions to the growth of the society."
It is worthy to state that on Wednesday,  April 13, 2022, at 12 noon at Government House,  Asaba, Delta State, Rt. Hon.  Festus Ovie Agas,  shall be delivering this year's edition of Maris Annual Public Service Lecture.
The lectured titled, "Selfless Service: A Phenomenal Virtue" will have Hon. Eta Enahoro,  Hon. Shimite Bello,  Barr. Bridget Anyafulu and Very Rev.  Fr. Chris Ekabo as Discussants while Dr. Kemi Emina will feature as the Moderator.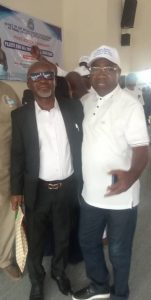 Dr. Oba had sent message of congratulations to Maris Trust Council for choosing Rt. Hon.  Agas to deliver the lecture assuring that he would attend the event with his friends and associates.