PRESIDENT Muhammadu Buhari, and the United Nations (UN), have condemned the murder of five aid workers by Boko Haram.
The terror group it was reliably gathered demanded for about $500,000 ransom which was not paid and on Wednesday, released a video showing the execution of the five workers.
Reacting to the murder of the workers, President Buhar in a statement signed by his Senior Special Assistant on Media and Publicity, Mallam Garba Shehu said, "President Muhammadu Buhari condemns the recent murder of five staff of humanitarian agencies in Borno State, who were kidnapped by Boko Haram terrorists a month ago.
"President Buhari sympathises with the families of the five aid workers, while praying that God will comfort them for their irreplaceable loss.
"He assures them that his government will continue to do all it can to ensure that every remaining vestiges of Boko Haram is wiped out completely from northeastern Nigeria and that the perpetrators of this atrocity face the law."
The UN in a statement signed by its Humanitarian Coordinator in Nigeria, Mr Edward Kallon, and released to the media by the Head of Public Information, UN Office for Coordination of Humanitarian Affairs (OCHA), Eve Sabbagh, also condemned the murder.
According to the statement, "Our colleagues and partners were abducted while travelling on a main route connecting the northern town of Monguno with Maiduguri, the Borno State capital.
"Their safety and securing their safe release have been our highest priority since they were captured in June.
"I strongly condemn all violence targeting aid workers and the civilians they are assisting.
"I am also troubled by the number of illegal vehicular checkpoints set up by non-state armed groups along main supply routes.
"These checkpoints disrupt the delivery of life-saving assistance and heighten the risks for civilians of being abducted, killed or injured, with aid workers increasingly being singled out.
"This is tragically not the first killing of kidnapped aid workers.
"We have repeatedly called for such devastating fate and blatant violation of international humanitarian law to never happen again; and yet, it does.
"I implore all armed parties to step up their responsibilities and stop targeting aid workers and civilians."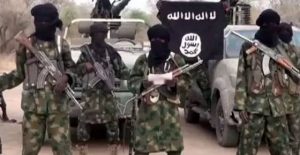 Also, Boko Haram which claimed responsibilities for the abduction and murder, said in the video they released that, "We are sending this as a very strong message to you unbelievers and infidels; and to those of you that are being used by these infidels to repent.
"You are working for them but they do not have any concern about you.
"You worked for them to achieve their goals but they are very far from your plight.
"They do not show you any care; look at you now; when we kidnap you they don't care; they show no concern.
"We are calling on all you unbelievers to repent and turn to Allah.
"We will continue to abduct you people at every road that we see you if you don't repent to work for them.
"It is a warning to all of you."